ALLATOONA NJROTC MISSION
"Instill in students the values of citizenship, ​service to the United States,
​personal responsibility, and a sense of accomplishment."
---
---
Key Events
* March 24 - Military Ball
* April 4-6 - Parris Island Trip
* April 14 - Horizon Baseball League
* April 14 - Bucket Fundraiser
* April 27 - Awards Banquet
* April 28 - Feed My Starving Children - Community Service Project
---
MILITARY BALL

The 2018 Allatoona Military Ball will be
Saturday, March 24
6:00pm to 10pm
Brookstone County Club
DEADLINE TO SIGN UP/PURCHASE TICKETS EXTENDED!!
Payment Due This Wednesday, March 21
Tickets are now on sale, $30.00 for Cadets. If a Cadet is bringing a non Cadet guest, the ticket for the guest is $25.00.
Everyone must have a ticket.
***The ball is an opportunity for Cadets to experience a formal event with formal procedures*****Military Tradition***
***There are certain rules, procedures, and protocol that must be followed*****This is NOT your traditional party!***
Dinner, Photo Keepsake, Senior Recognition, Dancing
But Most Importantly...LOTS of FUN & GREAT MEMORIES!
Please Get your Tickets TODAY!

---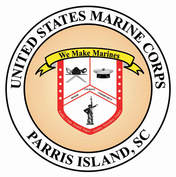 PARRIS ISLAND TRIP

Allatoona NJROTC is excited to announce that all Cadets have an opportunity to take a trip to the Marine Corps Recruit Depot at Parris Island, SC. The trip will be April 4, 5, 6. Please note, this is during spring break. Cost is $75 if Activity Fees have been paid, $100 if Activity Fees have not been paid.

​This is a FANTASTIC opportunity for the Cadets to take a look inside one of the most prominent training facilities in the Department of Defense. Cadets will have an immersive experience that will have them interacting directly with Marine Corps Drill Instructors and specially selected trainers throughout the two night event. The visit will culminate with the Cadets attending the Graduation Ceremony, Friday morning, of the newest Marines in the Corps.
Please see Lt. Col. Knudson for more information.
---
---
​2018-19 SCHOOL YEAR
While we still have a long way to go this school year, we are beginning to plan for the 2018-19 school year. If you have a student who will be a Freshman, Sophomore, Junior, or Senior next year, and you are looking to help out, we need to hear from you. Please contact CPO President Sherri Levine at levinefamily.sherri@gmail.com or 678-480-7170 or any of the current CPO Board Members, and they will be happy to fill you in on plans for 2018-19 and how you can help out.​​
---
PARENT CONTACT INFORMATION
The Cadet Parent Organization is updating its list of contacts for Parents of Cadets in the Unit. We ask all parents to click on the link below and update their contact information so the CPO can communicate more effectively with parents.
PARENT CONTACT INFORMATION
---
Feed My Starving Children - Community Service Project
April 28, 2018 - 2:30 pm - 4:30 pm
(Clean up help is encouraged after the event. There will likely be food for those who can help afterwards)
Summit Baptist Church, 4310 Moon Station Ln, NW, Acworth, GA
We need as many teams of 8 as possible. Teams will be competing with other schools to see how many boxes of food they can pack.
---
CADET ACTIVITY FEES​

PAYMENTS CAN STILL BE MADE.

Alternate payment plans are absolutely supported. Please contact LtCol Knudson or MSgt McKoy ASAP and share the payment plan that works with your family's dynamic.

Checks should be made out to "Allatoona NJROTC" & dropped off in payment box in LtCol Knudson's Room
**A $30.00 return check fee will be charged for insufficient funds**


---
Cadet Remind
to sign up for the cadet remind text @anjrot to 81010

---
Plan Of The Week:



Monday(3/19):

​

Staff stand up meeting:0800-0815
Class focus: Academics
Tutoring: 1535-complete
​Orienteering practice: 1545-complete

Tuesday(3/20): ​

Class focus: academics
Color guard practice:1545-complete

Wednesday(3/21):

Academic Team: 0730-0815
class focus: PT
Rifle team practice: 1545-complete

Thursday(3/22):​​

Class Focus: Uniform Inspection/testing
NJROTC Buc Block: 0950-1030
Drill team practice: 1545-complete

Friday(3/23):

Class Focus: PT
Staff Meeting: 1545​-complete

Saturday(3/24):

​

​

Sunday(3/25):

---

SYLLABI


Morning Colors
Berry, Parker, Ha
ALT: N/A. Music: N/A

---

---

PT Leaders
​1st: Cirrilo, Gutierrez, Berry
2nd: Hysa, Ketchledge, Mattox
​3rd: Belino, Ha, Slater

---

SPIRIT WEAR
ORDER NOW THROUGH YOUR CADET OR IN DIRECT E-MAIL WITH THE CPO PRESIDENT.

Red PT Shirt: Painted Logo - Wicking: $15
Black PT Shorts: Painted Logo - Pocketed: $30
Black 1/4 Zip Fleece: Embroidered Logo - $40
Black Trainer Jacket: Embroidered Logo - $52
Black Trainer Pants: Embroidered Logo - $30
Black Polo Embroidered: $40
Prices $2-$5 over Cadet Activity Fee price: money to unit fund
​WILL ORDER WHEN WE HAVE 24 OR MORE ITEMS


---

CADET-PARENT ORGANIZATION

The CPO offers a way all parents of Cadets to get involved! Please visit the CPO page for information.
​
The CPO meets the first Wednesday of each month at 16:00 in Lt Col Knudson's Room.
NOTE: MOVED BACK A WEEK DUE TO SPRING BREAK
The Next Meeting will be April 11

May Port Trip


Kennesaw Mountain and Allatoona NJROTC came together for a trip that we will never forget. Cadets enjoyed sightseeing, visiting P-3's and P-8's. We also enjoyed touring our nation's Coast Guard ship. Cadets then had the privilege to get a Sea Cruise Ribbon when they road on a Coast Guard ship. The trip was a great experience to learn new things about those who fight and protect our freedom and liberty.

---

Hayes Elementary Carnival


Our cadets enjoyed helping set-up Hayes Elementary Carnival. Cadets gave popcorn with extra goodies, gave out water, painted faces, and toke care of photos. After all the fun was over cadets enjoyed in helping clean up and putting objects back where they originally came from. We enjoy helping the younger generation and our fellow schools.

---

Acworth Business Association

Allatoona vs River Ridge


Allatoona NJROTC cadets enjoyed selling Bundt Cakes, Parking, Selling tickets, and firing the cannon. Cadets enjoyed these activities because we made people smile.


---

Luella Drill Meet

On October 21 the Allatoona NJROTC traveled to Luella High School for their second Sanctioned Drill Meet of the year. Cadet Riley Williams was awarded an individual medal in Academic Testing and the 8 x 220 relay team made up of Cadets Strain, Clay, Smith, Sandoval, Bennett, Ingram, Berry and Groce won their heat in style. In addition the Cadets participated in competitions for Color Guard, Personnel Inspection, Armed Platoon Basic, Unarmed Platoon Basic, Academic Testing, and Sit-up and Push-up competitions. It was a great day for everyone and the Cadets learned a lot!


---

Allatoona vs Sprayberry Homecoming Game


Allatoona NJROTC cadets worked and had a great time being active at the game. We presented colors, did parking, tickets, and a Sword Arch. We love serving our school and those around us.


---

The Allatoona NJROTC Cadets traveled to Stockbridge HS on Sept. 30 to compete in the Stockbridge Drill Meet. Our Cadets competed in Academic Testing, Push-Up and Sit-Up Competitions, Unarmed & Armed Exhibitions, Personal Inspections, Color Guard and 16x100 & 8x220 races. The Cadets exhibited outstanding leadership traits and represented themselves and Allatoona in a great way. Most importantly, the unit had a great time pushing themselves to be their best and supporting their fellow Cadets in the competitions.


---
"Anchored in Excellence"